DATgirl - Boom Drop (Dave Sweeten Remix)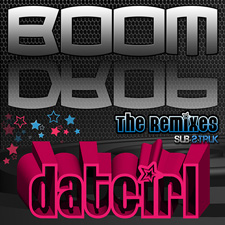 SUB045 DATgirl - Boom Drop Remixes
Release Date - February 24th, 2014
DATgirl - Boom Drop - The Remixes out Feb 24th, 2014. Featuring remixes by Loom In Essence, Matnetik, Chris Shelton, Tha Fruitbat, Psy Fi and Dave Sweeten.
Substruk Records is stoked to present an incredible assortment of sonic mastery with this upcoming release, as six of the West Coasts' sickest new talents come together to remix producer/MC DATGirl's celebrated track "Boom Drop".
One of DATGirl's first departures from the limitations of a completely live produced track, the original "Boom Drop" was engineered by M.F. Silva, who worked side by side with DATGirl to masterfully bring her signature hardware synthesizer sound into full-powered flourish and to showcase her quick and sweet lyrical style (at 160 bpm), transforming her live PA classic into a low-end tour de force of bassface magic.
Now with six hot new remixes, this collection of producers evolves the track from its original in-your-face intensity to vast and varient landscapes, from sweet and heart-melting to whompy mid-tempo future bass to trap-alicious 808 madness to heavy guitar-bangin' funk and organic instrumentation, each one a treat not to missed. Though the compilation of tracks all began with the same original inspiration, each one uniquely pushes the boundaries of technique and successfully illustrates the rapid strides in sound design and overall elevated production styles that Substruk is happy to present and represent to the electronic music world at large.
Tracks:
Boom Drop (Original Mix)

Boom Drop (Matnetik Remix)

Boom Drop (Psy Fi Remix)

Boom Drop (Tha Fruitbat Remix)

Boom Drop (Chris Shelton Remix)

Boom Drop (Loom In Essence Remix)

Boom Drop (Dave Sweeten Remix)
DATgirl - Boom Drop (Dave Sweeten Remix)
{soundcloud}https://soundcloud.com/dave-sweeten/datgirl-boom-drop-dave{/soundcloud}
Tags: bass, glitchy, vocal, heavy, dubstep, substruk, remix, addictech, beatport, Audio, Discography