vocal - DaveSweeten.com
Music is the drug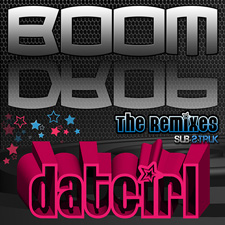 SUB045 DATgirl - Boom Drop Remixes
Release Date - February 24th, 2014
DATgirl - Boom Drop - The Remixes out Feb 24th, 2014. Featuring remixes by Loom In Essence, Matnetik, Chris Shelton, Tha Fruitbat, Psy Fi and Dave Sweeten.
Substruk Records is stoked to present an incredible assortment of sonic mastery with this upcoming release, as six of the West Coasts' sickest new talents come together to remix producer/MC DATGirl's celebrated track "Boom Drop".
Latter Day Dub "The EP" **FREE DOWNLOAD**
Latter Day Dub releases their first FREE EP for reaching the 1000 fan mark on their Facebook Page!Latter Day Dub is a colaboration of amazing artists and music lovers with roots based in Utah. Latter Day Dub promotes events in Utah, broadcasts a dubstep show on Filth.fm called "Latter Day Dub Sessions", and also has members who co-host "Basstream Radio" on Glitch.fm.