beatport - DaveSweeten.com
beatport - DaveSweeten.com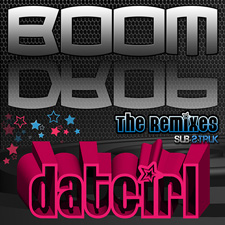 SUB045 DATgirl - Boom Drop Remixes
Release Date - February 24th, 2014
DATgirl - Boom Drop - The Remixes out Feb 24th, 2014. Featuring remixes by Loom In Essence, Matnetik, Chris Shelton, Tha Fruitbat, Psy Fi and Dave Sweeten.
Substruk Records is stoked to present an incredible assortment of sonic mastery with this upcoming release, as six of the West Coasts' sickest new talents come together to remix producer/MC DATGirl's celebrated track "Boom Drop".
SUB012 - iBenji and Drozd - Drop It + Remixes
Release Date - April 5th, 2011

IBenji teams up with fellow russian producer Drozd and unleash one of the heaviest sub bass drops to date. Starting off with a killer arp riff, glitched out fills, drops, and one shots. You never know whats waiting for you around the corner. Then it hits you. No... not the spicy chicken burrito you ate at 3am last night for your 4th meal. The sickest sub bass pitch drops, rumbles, and wobbles you've encountered. All while your trying to dodge the raw slap snare from hitting you where it hz. Feat. remixes by Gadzookz, Atomikdog, and Dave Sweeten.